Anatomy of a Web Banner Ad
A web banner or banner ad is a form of advertising on the World Wide Web delivered by an ad server. This form of online advertising entails embedding an advertisement into a web page. It is intended to attract traffic to a website by linking to the website of the advertiser. The advertisement known as a "click through". In many cases, banners are delivered by a central ad server (can be self-hosted, or subscribed service).
When the advertiser scans their logfiles and detects that a web user has visited the advertiser's site from a content site by clicking on the banner ad, the advertiser sends the content provider some small amount of money (an affiliate commission). In most cases this process is all done automatically on the central ad server, by a software package.
Web banners function the same way as traditional advertisements are intended to function: notifying consumers of the product or service and presenting reasons why the consumer should choose the product in question, a fact first documented on HotWired in 1996 by researchers Rex Briggs [1] and Nigel Hollis. Web banners differ in that the results for advertisement campaigns may be monitored real-time and may be targeted to the viewer's interests.
Standard sizes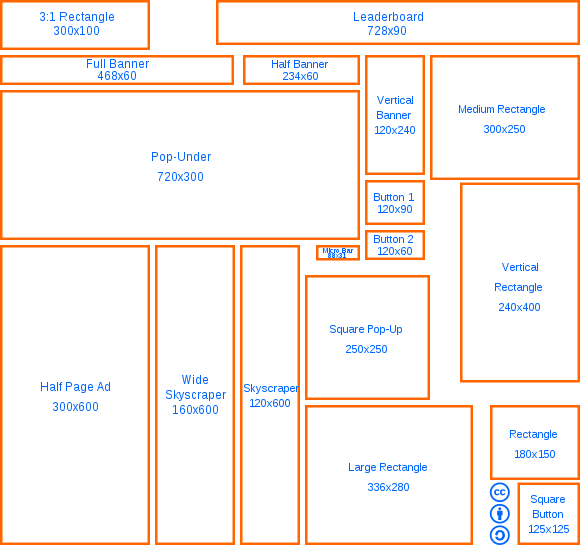 Ad sizes have been standardized to some extent by the IAB [2]; they are:
Name
Width / px
Height / px
Aspect ratio
Rectangles and Pop-Ups
Medium Rectangle
300
250
1.2
Square Pop-Up
250
250
1
Vertical Rectangle
240
400
1.67
Large Rectangle
336
280
1.2
Rectangle
180
150
1.2
3:1 Rectangle
300
100
3
Pop-Under
720
300
2.4
Banners and Buttons
Full banner
468
60
7.8
Half banner
234
60
3.9
Micro bar
88
31
2.84
Button 1
120
90
1.33
Button 2
120
60
2
Vertical banner
120
240
2
Square button
125
125
1
Leaderboard
728
90
8.09
Skyscrapers
Wide skyscraper
160
600
3.75
Skyscraper
120
600
5
Half page ad
300
600
2
Sizes in bold are part of the IAB's Universal Ad Package
NOTES:
[1] Rex Briggs is an author, award winning marketing ROI researcher. In 1995, Briggs joined HotWired as Director of Research, where he created the first study of Web banner advertising effectiveness.
[2] Interactive Advertising Bureau (IAB): Founded in 1996, the IAB is based in New York City. The Interactive Advertising Bureau (or IAB) is an advertising business organization that develops industry standards, conducts research, and provides legal support for the online advertising industry. The organization represents a large number of the most prominent media outlets in the United States.
URL: http://www.iab.net/